Your Extensive Horoscope For The Week 9-15 April
Find out if love is in your future, if you're headed towards a change in your career, or how the planet's alignment will effect your outlook on life.
ARIES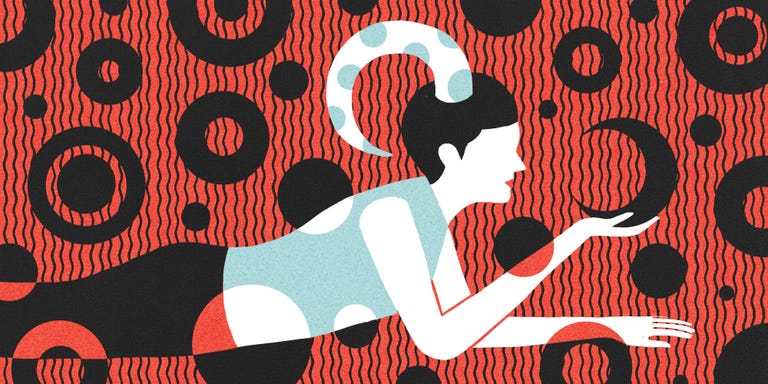 Gaze into that crystal ball, Aries. You're feeling inspired and serious about your future this week—and you're far too determined to just go with the flow. On Wednesday, April 11 cosmic co-captains Mars and Venus lock into an auspicious trine (120-degree angle), getting you pumped about what's next. While these planets traditionally govern romance, they are also amazing generators for your creativity and ambition, especially since they are both flowing through stabilizing earth signs. Your ruler, Mars, is in your goal-oriented tenth house; Venus in your sensual-yet-sensible second house. Together, they'll provide plenty of practical magic to power your dreams. Relationships may not be able to survive in the "undefined" zone this week. Discuss the terms of engagement and get clear: Are you officially together or destined to be each other's eternal hotline bling? Happily attached Aries may need to sit down with your partners to talk about pragmatic matters like money, schedules, the needs of family, kids and pets. If you have a big career shift in mind, you obviously want your S.O.'s support. Time to talk it through! Let Mars fill your cup of courage and Venus chase it down with a shot of compassion. While it might be scary to talk about changes, you could end the conversation bubbling with shared excitement about what's next. Single Rams might meet someone sweet and serious––the type that wants to settle down. You might even spark the connection through a work function, or somewhere mundane, like when you're waiting in line at the bank. Mixing business and pleasure doesn't have to spell disaster; not if your connection goes beyond the physical. Coupled Aries might even be inspired to team up on a professional project under this transit.
Career-wise, this flowing alignment of Venus and Mars brings a creativity spike AND a surge of momentum. Stylish Venus supports you with rebranding: Is it time to take headshots or have a graphic designer craft a new logo or website for you? Mars gives you the courage to put your work out into the public eye or even step into a more prominent, public position at the office. Start doing the prep work, like gathering inspo for a Pinterest board or polishing up your LinkedIn profile. But you'll want to wait until next week to push ahead, because the weekend's developments will REALLY set you up for success.
It's starts early Sunday when messenger Mercury snaps out of a three-week retrograde that just so happened to fall in YOUR sign. With the normally articulate sign out of sync, you've probably struggled to find the right words since March 22—or maybe you made promises you slowly realized that you just can't keep. Getting yourself out of any jams will be a lot easier starting Sunday as Mercury pivots back into direct motion AND blesses you with the gift of gab until May 13. Stalled personal projects will pick up pace again and you may have some brave new initiatives to take later in the day as the year's only new moon in Aries arrives. This powerful lunar lift can feel like a rebirth of sorts. Break out the bubbly and pour a toast to "me, myself and I!" As you're sipping, start thinking about where you'd like to be (and who you'd like to be with) on September 24 at the corresponding FULL moon in Aries. Challenge yourself, but more like a supercharged motivational speaker than a punishing drill sergeant. The goals you set under YOUR new moon are always potent ones, but if you want to take 'em to the finish line, make sure that the process of achieving them will spark major joy!
TAURUS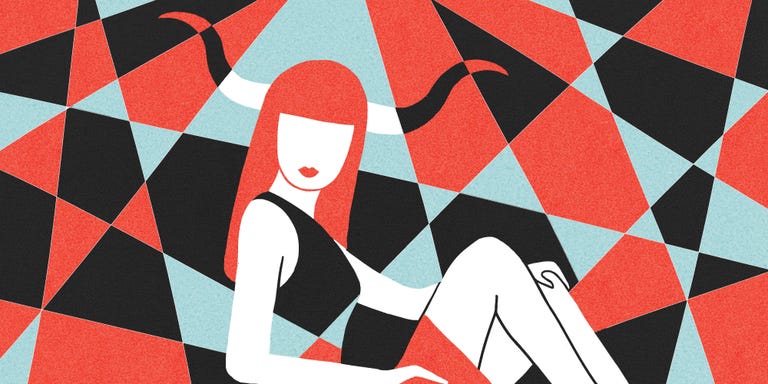 Take a chance on romance, Taurus! This Wednesday, April 11 cosmic lovebirds Venus and Mars flow into a harmonious trine (120-degree angle). Because enchanting Venus is in YOUR sign, you'll feel like Cupid's darling. And it doesn't hurt one bit that Mars is in Capricorn and your expansive, exploratory ninth house. Take advantage of this bold energy and let it open your mind to new possibilities…even ones that feel a little riskier than your play-it-safe sign is accustomed to. We're not talking about diving into something destructive like starting an affair with a not-quite-divorced charmer or calling your toxic ex; but you certainly DON'T need to be so, er, traditional, either. This cosmic combo can give you the confidence to express a secret fantasy or deep-down desire. With Mars in your travel zone, you could feel inspired to book a romantic vacation with your S.O.—or, if single, a super-fun trip with your wing(wo)men, that could involve a wild night or three. Close to home, reroute your weekday plans to anywhere BUT "the usual places." And don't be shocked if you find yourself attracted to a brand-new type. With Mars and Venus in such expansive placements, your heart could open to some unexpected options, including a long-distance relationship or cross-cultural romance.
The Venus-Mars trine will also rev up your enterprising nature. Keep a capture tool handy near Wednesday because THE idea of 2018 could come flowing in like a divine download—and this one may be seriously profitable. Already have a business plan in the works? If you're ready to shop it around, a pitch could be a huge success near Wednesday. Have you been sitting on an idea for a book, media project or a workshop you'd like to teach? Hello, inspiration. When the muse strikes, feel no guilt about cancelling an outing so you can develop your grand plan.
Do you still feel like something is standing between you and your dreams? You'll start getting to the bottom of that mystery on Sunday when Mercury ends its three-week retrograde through your foggy twelfth house. Since March 22, you may have felt like you were walking around in a daze. Old demons may even made cameo appearances in your thoughts, throwing you off your game. As Mercury corrects course on Sunday, clarity and healing commence! Between now and May 13, you may finally find the inner resolve to walk away from a person, behavior or situation that's just not good for you. True, you may have to live with the disappointment that this didn't live up to your fantasy, Taurus. But you can release the anger or frustration by working on accepting things as they are instead of stubbornly trying to change them. (Some would call that "surrender.") Stay alert! A life-changing teacher, practitioner or healer may come into your world as Mercury wings its way through your twelfth house. During these few weeks, make time for quiet reflection. On May 13, Mercury will return to your sign, turning you back into a bubbly social butterfly once again.
Later on Sunday, you'll get a second hit of this introspective energy as the only Aries new moon of the year falls in that healing twelfth house. Higher wisdom will be more than accessible as you wrap the weekend. Make yourself a clear channel by spending some time in solitude, meditating, listening to soft music, or making art. Journaling can also "empty the cup," but if words fail you, draw or make collages of images without censoring yourself. Letting your unconscious mind lead can reveal hidden longings and desires. If you're looking for a softer kind of spring training, let this new moon lead you to a flowy yoga or dance class. Movement should be pleasurable, not punishing—especially for a sign that's as sensual as yours!
GEMINI
Take a plunge into the deep end of the pool, Gemini. This Wednesday, April 11 cosmic copilots Venus and Mars flow into a rare and harmonious trine. In this 120-degree angle formation, their energies dovetail magically, opening your heart and stirring up soulful synergies. Venus is currently sailing through Taurus and your enchanted, compassionate twelfth house. Mars is on a longer voyage through Capricorn and your intimate, seductive eighth house. Attractions will go WAY beyond skin deep this week; in fact, your psychic sensors will be working overtime. Don't brush off any gut feelings and knowing feelings that may strike! They're like little nudges from Cupid, directing you towards what you want. These intuitive hits can also help you resolve a difficult situation you've been reluctant to address. Tune in: You may realize that your so-called nemesis wasn't actually trying to make your life hell. If you misread their motives, this cosmic coupling can help you clear the air. Don't be surprised if near- (or legit!) clairvoyant messages come to you during a Wednesday meditation or dream. These otherworldly missives might even be meant for your friends. Tell them what popped into your mind, even if it feels a little weird to do so. For all you know, Gemini, you may be channeling the very words they need to hear.
And while you're reading everyone else like a book, guess what? The Mars-Venus trine will also nudge YOU to open up and share some pages from your own personal history. You don't have to do this with the general public, Gemini. But if you've established a certain level of trust with a friend or group, drop the mask of "perfection" and let people in on where you've been struggling. Support is all around you, but you have to drop your guard if you want to access it. This catharsis could even lead a creative burst. Under this heavenly hybrid you'll feel sexy, poetic and artistically inspired. The muse might even wake you from your sleep on Wednesday night to paint, write, or compose!
If you've been in a social slump since Mercury turned retrograde on March 22, here's some news we know you'll love: Your cosmic ruler vaults back into direct motion this Sunday, April 15, helping you discern a friend from a frenemy. With the messenger planet buzzing on-course through Aries until May 13, your popularity will quickly start to rise. But don't just flutter over to the same, familiar gardens. Later Sunday, there will also be a new moon in Aries that fires up your communal, exploratory eleventh house. Perhaps you've outgrown a certain squad—and even the pals with whom you reunited during the retrograde can meet certain parts of your burgeoning personality. Let this lunar lift lead you to greener scenes, ones that fit 2018 Gemini. You might even find your flock online, which is fine as long as you don't hide out behind an avatar forever. Speaking of technology, as of Sunday, you can start getting your geek on again. Don't relegate yourself to an analog existence just because every device flipped out on you during the retrograde (or you're freaked out about Facebook's sneaky invasion of your Android phone's "privacy" settings). Over the next few weeks, shop around for gadgets, taking your time to understand the features and reading all the consumer reviews before you make a final purchase. Would learning new software or digital marketing skills spell money in the bank? Let the new moon guide you to classes like the ones at generalassemb.ly or see if your company might even pay for you to take a longer certification course. Got an idea brewing for a website or digital venture? Consider Sunday your green light!
CANCER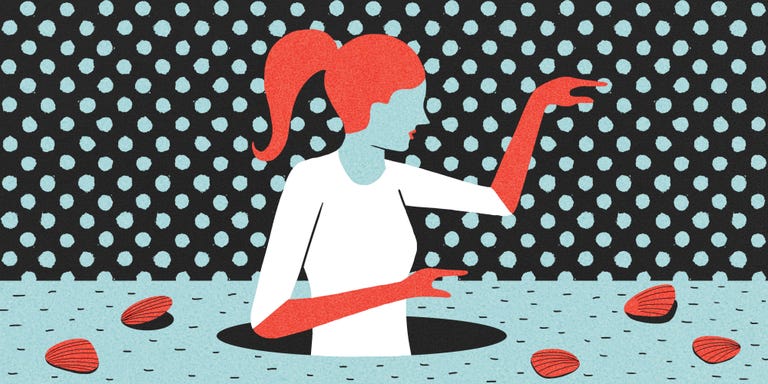 Flex those wings, Cancer! You're the reigning monarch of all social butterflies this week, as cosmic copilots Venus and Mars glide into a rare and harmonious trine (120-degree angle) on Wednesday, April 11. This auspicious formation could mark a happy turning point for your social life. At last! You may discover a deep sense of belonging within a group; or, you could meet "your people," a squad of kindred spirits who see the world through a similar lens. Get out and mingle; explore new scenes. While you need your fair share of alone time, you thrive in the company of the right tribe. Already surrounded with a rich soul squad? This is your week to play Superconnector and bring them all together. Make introductions, even consider hosting a get-together near Wednesday. If you're not up for organizing a cheese platter and springing for wine, just invite everyone to your favorite after-work spot. And since Mars is in your seventh house of romance while Venus is mingling in your teamwork zone, there could be a shining star in the group who you suddenly realize you'd like to get to know better. The friend zone isn't such a bad place to find love; in fact, that strategy can work well for your slower-to-warm-up sign. A creative collaborator or partner for a professional venture could also emerge. Mars is revving up your tech sector, so if you feel like doing some right-swiping, Wednesday might bring that lucky match. If you're already in a relationship, have a talk about your vision of love. With all this "ask, believe, receive" energy flowing around, you may decide to take a big leap together, like trading apartment keys or making appointments to be sized for rings.
If all that social energy distracts you during the workweek, fear not. By the time Sunday rolls around, you'll actually WANT to make up for lost time. Early in the day, Mercury pivots out of a three-week retrograde and powers ahead through Aries and your career zone until May 13. Roadblocks that plagued you since March 22 will disappear over the coming few weeks, while stalled missions may finally achieve liftoff. If you've been clashing with a coworker (perhaps someone in upper management or a newbie who resents YOUR authority), the air will soon clear. Did you get behind on communications? Make a list of all the people you need to contact, the proposals and documents you need to send, and any power lunches you need to schedule. Next Monday, your first order of business will be to check off every one of those items!
Work goals get a second reboot later on Sunday, when the year's only new moon in go-getter Aries joins Mercury in revving up your ambitious tenth house. Take time Sunday afternoon to set six-month goals for your career. Then, get proactive over the next two weeks while la luna is smiling on your success strategy. Do you need to be more of a face at industry events or company mixers? Or is it perhaps time to branch off in a new direction and even become your own boss? This lunar lift will help you get big plans in motion! Look ahead to the corresponding full moon in Aries on September 24. Where would you like to be working then, and—more importantly for your personable sign—with whom? Think big, act boldly, and align your path to your passions.
LEO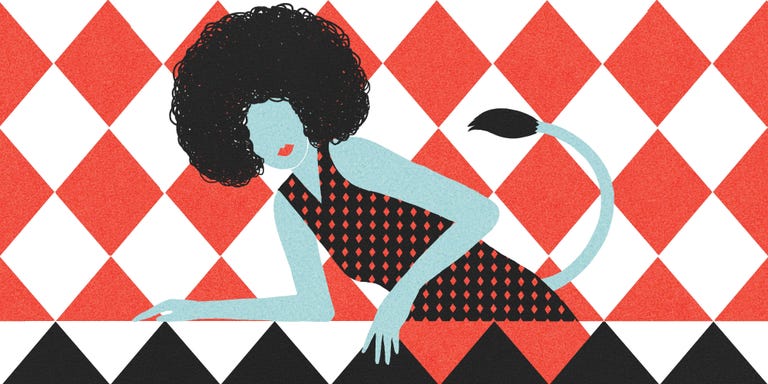 Oh, how you love a passionate fairy tale, Leo. But as one of the zodiac's security-seeking "fixed" signs, you're equally turned on by structure and stability. Here's some news that will warm your heart: On Wednesday, April 11, cosmic lovebirds Mars and Venus dance into a harmonious trine (120-degree angle) in the most grounded zones of your chart. Mars is in Capricorn and your sixth house of healthy choices; Venus is flowing through Taurus and your goal-oriented tenth. Tradition, tradition! You could fall head over jeweled mules for someone nice—the type who would get the stamp of approval from your innermost circle. Existing relationships might hit a happy stride as you get into a comfortable—and comforting—groove together. Talks may even turn to financial planning and setting five-year benchmarks, like buying a house or starting an office-less business that you can operate via laptop as you travel the world. Let those power couple visions dance through your head! Then, lean in to Mars' courage and say 'em aloud!
At work, the Venus-Mars trine helps you present as the confident, creative force that you are. A leadership opportunity could have "Leo" written all over it. If you feel ready to take on the responsibilities, throw your hat in the ring. Do you need more stability from your job? Schedule time with HR to discuss your contract and benefits. This planetary pairing helps you gracefully assert your needs. If a client or colleague has been driving you crazy with demands, take command of the situation. Maybe you need to formalize your workflow or agree upon a system for signing off on tasks. With a little more structure, you'll be able to serve them properly without being at their diva-like beck and call.
If the cat had your tongue for the past few weeks, you'll nab it back on Sunday, when messenger Mercury effectively ends its retrograde. If your attempts to be "honest" were bungled (or totally backfired) since March 22, start making amends. Humor can lighten the mood, so let the bon mots fly once those emotional icecaps start melting. Mercury is powering up your adventurous ninth house—if you've been waiting for the right moment to plan your summer vacay, this is it! But think outside the box, Leo. How about livening things up with an international getaway instead of returning to the same old spot?
A little later on Sunday, the only Aries new moon of the year powers up that same, adventurous ninth house, helping you cast a wider net in EVERYTHING you do. Your fame or fortune—or true love—may be waiting for you in another zip code…or time zone. Here's another nudge to roam like a free-range Leo. What if your vacay doubled as a teacher training program or spiritual retreat? Entrepreneurial ventures and media projects get a boost from la luna. Keep at 'em, Leo. You could see rapid developments within two weeks from Sunday!
VIRGO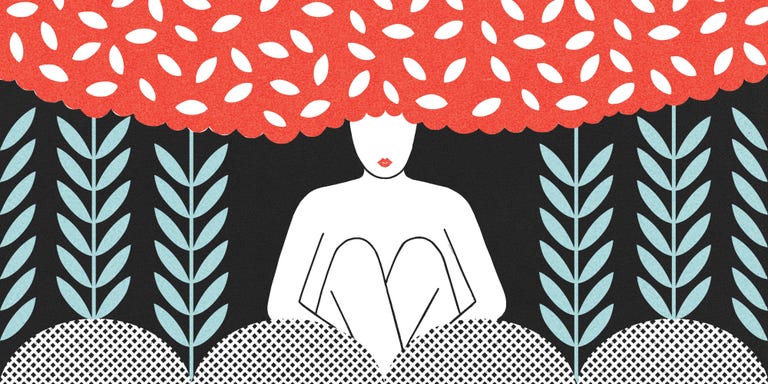 Just TRY to resist the TLC that's heading your way early this week, Virgo! Totally futile, right?! A better idea? Surrender to the sweet wave of emotion that's scheduled for Wednesday, April 11 as cosmic canoodlers Venus and Mars combine their powers in an auspicious trine (120-degree angle). If you're looking for love, you might not find Cupid checking in at his usual places. Venus is parked in Taurus and your broad-minded ninth house, opening your mind to people and romantic notions that are off your beaten path. You'll be drawn to folks from different cultural backgrounds—and basically anyone bright, sparkly and unafraid to make a bold fashion statement. And with passionate Mars provoking your flamboyant nature from your passionate fifth house, you won't just steal hearts, you'll nab scenes! Go ahead and put on a "show," Virgo. Here's your excuse for a midweek cameo at the hair salon for braids or a blowout. And, yes, you SHOULD wear the pantsuit with the platform heels, then flood your feed with selfies. If you have a special someone, you might even schedule a (ahem) private performance for hump day. Cameras off, please! This one could make a Pussycat Doll or Chippendale dancer blush. In all manner of relationships, the Venus-Mars trine inspires candor. You just can't help but bare your soul and fearlessly share your feelings. Are you craving "more" from a particular connection? Get honest about where you see room for improvement. Just don't forget that it takes two to tango. Rather than harping on what's missing, paint a sunny picture of the future you'd love to co-create.
Another surge of sultry energy arrives this weekend—and, as of Sunday, you can rest assured that signals won't cross when it comes to your heart. Messenger Mercury, who's been retrograding through Aries and your sexy-but-secretive eighth house since March 22, torques back into direct motion. At last! Not only will trust issues evaporate, but with Mercury powering forward in Aries until May 13, the stage is set for a spicy spring awakening. If someone's motives have left you mystified, you can stop playing guessing games; and hang up the private investigator's hat, too. Life is too short to waste on these distracting dances that only leave you dizzy and spun around in circles. Make it your mission to clarify "next steps" by mid-May. And here's where you may have to read some secret code: If all you can get is a "maybe," face the sad trombones and consider it shorthand for "no." But that wouldn't be the end of the world (even if it feels like it in the moment). Later on Sunday, the year's only new moon in Aries could draw a fresh romantic prospect into your harbor. Or you could get really clear about what and who you should be looking for. (Hint: Someone who is equal parts stable and sexy!) Already found your "endless love"? This lunar lift can take your relationship on an express-elevator ride to The Next Level. Who knows? Talks could turn to cohabitation while you're feeding each other pancakes in bed—or you might do "breakfast at Tiffany's," grabbing bagels and coffee then going to get sized for rings. No rush though! You have until the corresponding full moon on September 24 to work with the developments that begin on Sunday.
Since the eighth house governs long-term investments, the Mercury-new moon tag team can bring positive developments for your finances. If you don't know a mutual fund from a bond, you may suddenly feel motivated to raise your fiscal IQ. Are property values slowly creeping up in your area, or a developing city that's familiar to you? Real estate may be a wise place to tuck your money and watch it grow. If you have a project that's waiting to be funded, let Sunday's new moon serve as your launch pad for raising capital, whether you do an IRL campaign, a GoFundMe or literally shop your idea around to venture capitalists. DO protect your original ideas, even if Mercury IS done with his signal-jamming retrograde. A few hundred spent with an intellectual property lawyer now can save you thousands in the future!
LIBRA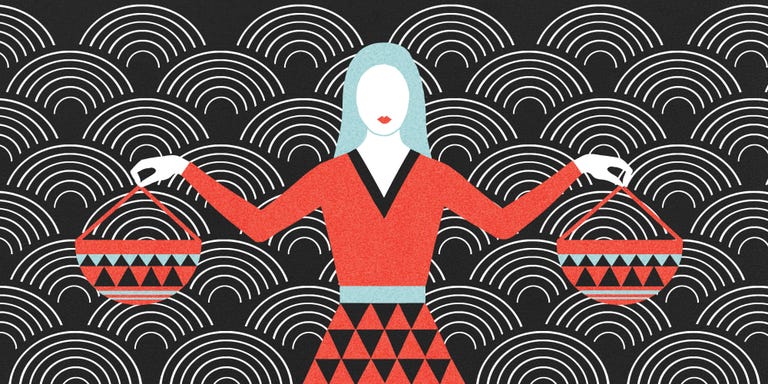 Try a little tenderness? The softer (and sexier!) side of Libra is shining through—and how lovely it is. This Wednesday, April 11 your ruler, amorous Venus, slow dances with her partner Mars. Their planetary PSA? Don't be so quick to write off the nice guys! Venus is presently on tour through Taurus and your intimate, seductive eighth house. As she forms a midweek trine (flowing, 120-degree angle) to passionate Mars in your sentimental fourth house, you'll swoon for the nurturing type—and should probably consider playing that role yourself. The way to bae's heart may indeed be through the stomach. Champagne and strawberries? Check! Coq au vin with a white wine pairing? Sure, why not? Prepare a special meal or bring a tray of edibles into bed as, uh, props. Although pillow talk with be both spicy and sentimental, you might just feel like cuddling on the couch for extended periods, too. And while sexy lounge-wear is nice, don't get hung up on having wardrobe and styling done to perfection. There's a beautiful vulnerability in letting the object of your affections see you in all your #iwokeuplikethis glory.
Friendships and family-style connections will also be blessed by the Venus-Mars trine. Under these skies, your caring charm is what will magnetize people. Don't be afraid to add an appropriately personal touch to your business endeavors. Showing up to a meeting with a box of donuts might sweeten the deal—and if you can meet for coffee or lunch, do! If "strangers" intrigue you, let your journalistic curiosity be your guide. It's almost impossible to have a superficial conversation in the early part of the week. In some cases, this could be the start of a beautiful friendship; in others, it might just be a magic moment followed by a TMI hangover. Drop your expectations and don't take it personally if certain folks pull back a little after a plunging exchange. If you keep your cool, they're likely to return for more after they've had a little space. Speaking of space, this motivating and creative cosmic coupling could inspire you to do some decorating. Does Chez Libra feel like a sacred oasis? Maybe it's time to create a meditation altar, yoga room, music studio or a dedicated place to create your art. If you've already created this dreamy nest, you may be inspired to invite friends over to do a little vision-boarding and potluck party.
Even more happy news for partnerships arrives on Sunday. First, expressive Mercury wraps its three-week retrograde and resumes forward motion in Aries and your relationship corner until May 13. Been on the fence about a dating sitch—or in a rocky romance? With Mercury back on track starting Sunday, clarity about next steps is forthcoming. You'll both be more amenable to compromising, so if this IS meant to be, you'll soon find that win-win. If the messenger planet's backspin drew an ex back into your life (as it can do), or if you're back in the old "what have I gotten myself into" situation, extricate yourself from the trap and clear the space for someone new to arrive. Business partnerships may also have hit a snag since March 22, but starting this week, you'll be able to find a peaceful middle ground—or a way to get yourself out of any dodgy deals you've been stuck in.
Later on Sunday, the only Aries new moon of the year sends a second activation to your partnership zone. Got an empty space in your heart that needs filling? Open it wide! You could meet someone with lasting potential or finally feel ready to make a budding connection exclusive. Already attached? This new moon helps you rebalance lopsided relationships. And since it falls in self-authorized Aries, that might mean stepping OUT of the couple bubble to support (and celebrate!) each other's individuality. PS: Pulling back doesn't mean pulling away, Libra. Differentiation can be a good thing.
SCORPIO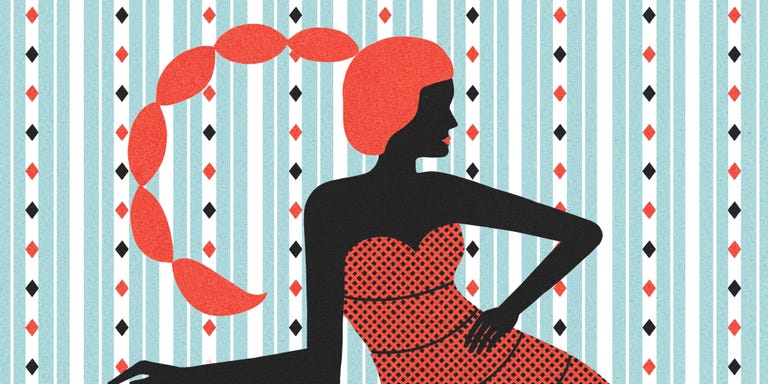 Sweet synergy! This Wednesday, April 11 amorous Venus glides into a rare and fortuitous trine (120-degree angle) with her companion Mars. It's not often these two planets assemble like this, so carpe diem! Venus is floating through Taurus and your seventh house of partnerships, while Mars is on a trek through your cooperative, communicative third house. Everywhere you turn, there seems to be magic brewing midweek; so much so, in fact, that you might decide to make a partnership official. But just because the good vibes are flowing doesn't mean you should leave anything up to chance, relying on a handshake deal or sealing it with a kiss. Lawyer up or at least draft some sort of written contract. Who's responsible for what and how will you divide up the duties and the profits? Clarity is the key to long-term success. Even if you're not forming a Sisters Kardashian-style venture, you're bound to have communication breakthroughs with your inner circle all week. If you're usually the raconteur of your crew, make a point of listening and asking questions. Do you find yourself in the role of the silent supporter more often? Get vulnerable and let your friends in on the goings-on of YOUR world.
Since Mars and Venus are the lovebirds of the skies, romantic developments will heat up near Wednesday, too. Plan an evening playdate or take off work for a short "baecation." Be your sweetie's BFF and keep the vibes light and fun. Laughter is the best medicine under this lighthearted alignment. Single? Dress up, buzz around, and check out cultural activities. You could flutter right into a hot prospect while examining a provocative work of art or dancing at an album-release party. Surprise: Someone who's been "just a friend" could even profess more amorous feelings! Who knew?
Willpower returns on Sunday, as a double-shot of cosmic energy fires up your sixth house of work and wellness. It's been hard to find your professional momentum—or your fitness mojo—since Mercury pivoted retrograde on March 22. But early Sunday, the mindful planet corrects course and powers ahead through speedy, innovative Aries until May 13. Later in the day, a new moon in Aries pours a second round of green fuel in your tanks, driving you further along on this make-better mission. Step one: Clean up your life and clear away brain fog in the process! Plow through those piles that accumulated over the past three weeks, then tackle the bramble of messages clogging up your inbox. Purge your fridge and cupboards of junk that only leaves you stuck in a spike-and-crash cycle.
Once you've cleared the field, start creating systems and schedules that will support your Q2 goals. Do you have too much work on your plate? Good help's been hard to find while Mercury backstroked through your sixth house of service. But starting Sunday, you can identify the assistance you need and start casting for support staff again. Make lists, Scorpio: Having a clear idea of what you're looking for is the fastest route to identifying the ideal collaborators. And thanks to this cosmic one-two punch, the coast is clear for a new wave of opportunities to flow on in. Stress-busting may also require you to get moving! This lunar lift might be just what you need to kick your spring training into high gear. With competitive Aries governing this zone of your chart, you might be inspired to join a summer sports league or challenge yourself to train for a mini-marathon…or title match! Just start slowly and keep at it consistently and you could make amazing strides by the corresponding full moon on September 24.
SAGITTARIUS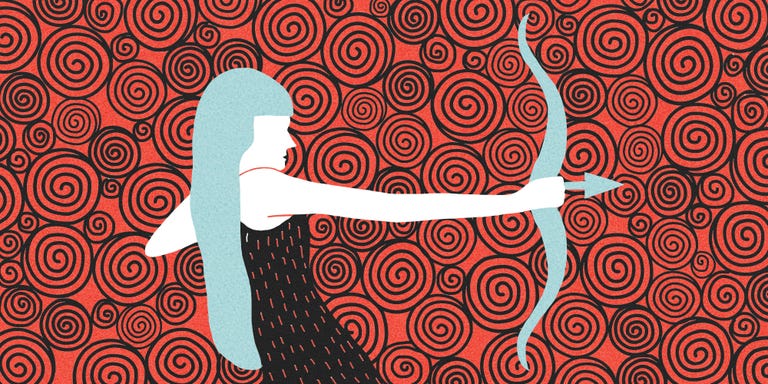 Stability might not be the first thing your spontaneous sign reaches for, but surprise! That very quality could make your toes curl on Wednesday, April 11 as cosmic coquettes Venus and Mars assemble into a rare and harmonious earth trine (120-degree angle). Amorous Venus is cooling her heels in Taurus and your sensible-yet-sensual sixth house. Lusty Mars is voyaging through Capricorn and your zone of practical magic. No, this heavenly hybrid might not set off a fireworks display, but it CAN draw in people with far more enduring traits. Don't spend every "in between" moment scrolling through Insta. Single Archers may be pierced by Cupid's arrows in the most mundane places like the food truck line, spin studio or the mail room in your building. A work situation might also yield a cosmic crush. Pro-tip: Your impulsive sign would be wise to read the HR manual before making any moves. If you feel genuine chemistry brewing, hold your fire and get to know each other as friends first. In time, you'll see what the future brings, and you won't put your career in jeopardy in the process. Have you been caught up in a whirlwind dating situation? Wednesday's evocative Mars-Venus formation can leave you questioning some of your recent choices—and it's probably for the best. Center yourself by diving back into one of your own hobbies. Be ruthless with yourself and stay committed—no skipping your Wednesday night dance class just because you-know-who texts last minute with a dinner invite! And working out regularly can help ground you, big time. Not only will you feel more relaxed in your own skin, but the bonus rush of endorphins will amplify your lit-from-within glow. Sexy!
Already attached? Do your part to get your relationship into a grounded (but NOT boring) groove. First up, align your schedules with a shared calendar. It's not about tracking one another's every move! This is about staying tuned in to important dates and events, so you're not like two ships passing in the night. With Venus and Mars in the fiscally savvy zones of your chart, Wednesday's talks may turn to shared finances. Have you planned ahead for all the fabulous dreams you want to live out together? Budgeting doesn't have to be a buzzkill, Sagittarius—and believe it or not, the discussion could come up in bed this week. But if you can't seem to talk money without raising your blood pressure, maybe it's time for you and bae to sit down with a financial planner who can mediate the dialogue. If it's a business relationship you're stabilizing, syncing that work calendar can do wonders to keep Team Centaur aligned. Create support structures for every area of life you want to improve: Sign up for buddy workouts with your bestie or a coworker who is in spring training mode, too. This trine will definitely prove that you don't have to go it alone. And to that, we raise a green smoothie!
Sunday's starmap will flip on the stage lights to reveal you, fabulous you! Since March 22, you may have slipped behind the proverbial curtain as messenger Mercury retreated through your fifth house of glamour and fame. Maybe you were working on your magnum opus or even struggling with a creative block. Whatever the case, the coming three weeks may put an unscheduled debut party on your calendar. With Mercury now powering forward through your fifth house until May 13, you can test drive your vision with a live audience, even if you're just starting with your innermost circle. And after three Tony Award–winning weeks of personal drama, your relationships should fall back into a calmer groove. You'll be more concerned with finding constructive solutions than chasing a bad romance. Speaking of which, did an ex show up for an encore performance this month? If you're still wondering if the show must go on, the answer will become clear over the next few weeks.
Later on Sunday, the new moon in Aries brings even more new initiatives to your romantic and glam fifth house. The fashion muse strikes! And with Mercury on course, it's safe to schedule that spring bang trim and ombre, tattoo consultation, or other game-changing style move. New love could arrive under these moonbeams, or a renewed chapter with the amour you adore. Creative powers will be heightened this weekend. Find a project to throw yourself into between now and the corresponding Aries full moon on September 24—and don't quit till you've crafted your masterpiece!
CAPRICORN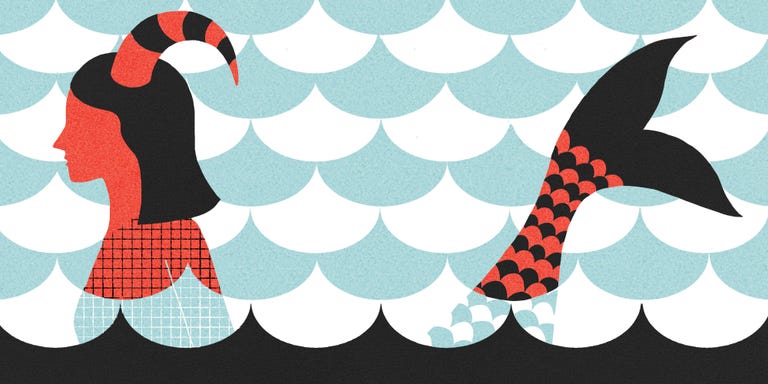 Twirl, Capricorn! All the world's your stage this Wednesday, April 11 as cosmic copilots Venus and Mars flow into an auspicious earth trine (120-degree angle) and make you the most dazzling of them all. Venus is currently occupying Taurus and your fifth house of fame, flamboyance and romance. That alone is enough to bring out your inner scene-stealer. But a second rush of magic comes from passionate Mars, who has been touring Capricorn and your first house of daring self-expression since March 17. As these heaven-sent sweethearts sync up in this somewhat-rare formation, you (or your work!) could be catapulted into the limelight. Be fearless about promoting and pursuing what you want. Fortune favors the boldest Sea Goat, and let's be honest: You've never had the patience to wait around for people to discover you anyway. Let your show-stopping side out to play and wear it on your sleeve, literally. (Good thing maximalism is still the runway rage this spring!) Your fashion dares will draw some fascinated eyes in your direction and someone important might even stop you on the street.
The Venus-Mars trine could also turn you into one smitten kitten. Wednesday may rouse one of those revelatory conversations where you share from the heart and feel totally heard and understood. If you've been hiding your light for fear of being "too much," flip the switch to ON. This is where the rubber meets the road: If the object of your affections can't appreciate you for who you truly are, then what future do you really have anyway? But Wednesday's promising alignment points to the opposite being true. Be more, not less, of who you truly are and you'll magnetize the right fans into your orbit. Talks could even turn to daring future plans, proposals and pregnancy possibilities. If you're single, you might have a weird, knowing feeling about someone, as if your bond is meant to be. Follow that thread, because your "soulmate patrolling" could turn up a promising prospect!
Drift on back to home base this weekend, Capricorn, and make it feel like a haven. But get ready: In the process, there may be a few messy situations clamoring for attention. Fortunately, Mercury springs forward from a signal-jamming retrograde this Sunday and lends support with things like dripping faucets and demanding relatives who you've largely ignored since March 22. Start ticking the easier things off your list first. Call the plumber, restock on healthy groceries and TP. But don't put off the inevitable call to your feisty sister; schedule the house meeting with your slovenly roommate. With Mercury on-course in Aries and your nurturing fourth house until May 13, you can use the coming three weeks to negotiate new boundaries and even tack a good, old-fashioned chore chart up on the fridge. Did you make some questionable decor choices over the past few weeks? Don't force yourself to live with that expensive (yet oh-so-wrong for your bedroom) duvet cover just because you bought it from the clearance table on final sale. You might just have to eat this one, Capricorn. If you can't auction it off on eBay, pay it forward and donate to a friend who will love it. What goes around comes around!
Later on Sunday, a second wave of feel-good vibes flow in when the new moon in Aries charges up this nourishing zone of your chart. There's no question that you're an amazing provider for loved ones, but how well do you "caretake" yourself, Capricorn? If pizza and brewskis have been more of a main menu item than a special treat, for example, start crowding them out with kale salads and lean proteins. If you're pressed for time, you might even try a food delivery service like Sun Basket, that sends non-GMO/organic ingredients and easy recipes right to your front door. In the market for a move? Set up those Redfin alerts and start hunting around. Even if you're not quite ready to pull up the stakes, this process will be eye-opening and perhaps grease the wheels for action six months from now under the corresponding full moon in Aries. Pay attention to the women who grace your orbit this weekend. One could play an important role in your life, opening a major door to opportunity between now and the September 24 full moon.
AQUARIUS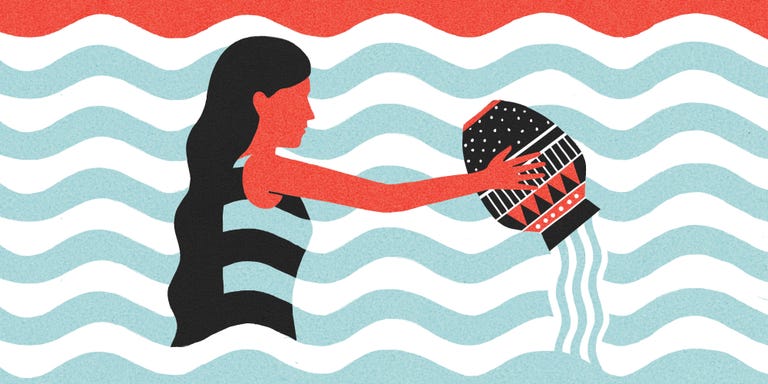 Canoodle away, Aquarius. Cosmic lovebirds Venus and Mars are shamelessly spooning this Wednesday, April 11 as they float into a somewhat-rare trine (120-degree angle). Venus is nestled in Taurus and your sentimental fourth house while Mars is touring Capricorn and your compassionate twelfth. This cozy alignment is like hygge season for your heart. Want to get closer to a certain someone? Plan a home visit or pick a more private venue for your one-on-one time. Sharing a meal or going for a walk among the spring blossoms can bring epic bonding moments. Did you make the mistake of packing your calendar with evening events? Don't push yourself to go out of obligation. It's okay to skip these outings (or make a brief cameo) so you can nest with bae or cook dinner for your BFF. If you're in a relationship, home and family matters will be on the table. Could it be time to hand your S.O. a spare key, start hunting for a love nest or maybe working on a remodel? Discuss! Single Water Bearers, get ready to strut right past the peacocking rebels near Wednesday, no matter how pretty they look with their feathers all fanned. Give priority to people with enduring traits like loyalty, stability and compassion. Trust us, this can be anything BUT boring.
Has distance crept in with a female relative like your mom or sister? The Venus-Mars trine brings an opportunity for healing and forgiveness. If you've been holding a grudge, you could finally release it. With a little journaling and introspection, you might even realize that YOU (glug) have something to apologize for in the matter, too. Don't put off communication much longer, if at all. Reach out and set up a time to connect for a much-needed heart to heart.
On Sunday, the signals will REALLY clear at the Aquarius communication station when Mercury pivots out of a choppy, three-week retrograde. If you didn't disappear into the cone of silence around March 22, you may be kicking yourself for a Tweetrum you threw or deeply regretting a Timeline TMI. Oops! (And let's just NOT mention those real-life gaffes that you'd rather wipe from your memory.) Hey, Aquarius, we all have our "oops!" moments. But no need to hide under the covers. With Mercury speeding ahead through your articulate third house until May 13, you'll become everyone's favorite mouthpiece and ad lib comedian once again. As for the truly lame ones who will never get your sense of humor or your otherworldly sensibility: forget them! Their upgraded replacements are arriving later Sunday, when the year's only new moon in Aries lands in your kindred spirit corner. Get back in touch with your road dogs and ride or die homies. AND, start fluttering around and exploring new interests. Become the queen of the workshop scene, or drop in to different fitness studios. Start saying "yes" when coworkers invite you to happy hour and old friends want to introduce you to the amazing people they know.
Some Water Bearers may be lured by the siren's song of an up-and-coming neighborhood. Your innovative sign loves the idea of helping to start a scene—or heck, create a utopia. If you've been pondering a move, this might be your moment to start hunting for a new address; or if you love where you live, add your rainbow-bright vision to your community and level up the local color! You could also be a part-time resident by renting a desk in a coworking space or, say, joining a communal arts studio. And with on-track Mercury and the new moon revving your ingenuity, you may be eager to get down to work on a writing or hands-on project. Need a better mode of transportation to get to and fro? As of Sunday, the coast is clear to start those test drives!
PISCES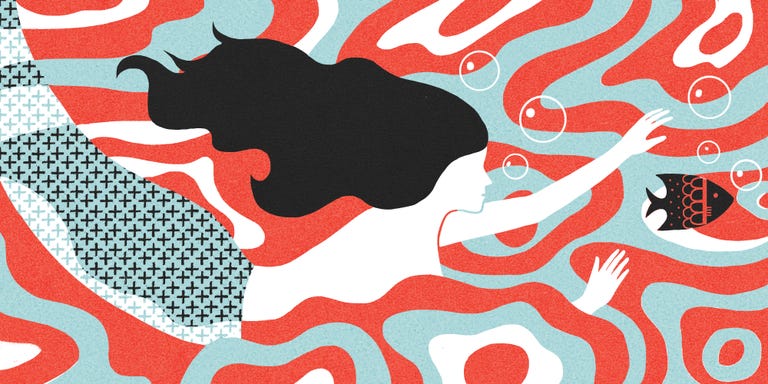 the love for your soul squad? Declare this Friendship Appreciation Week, as cosmic copilots Venus and Mars groove into an affectionate angle (a 120-degree earth trine) on Wednesday, April 11. Mars is currently posted in Capricorn and your eleventh house of community, while Venus is touring Taurus and your third house of peers and playful communication. Quick, Pisces: Can you can get the gang together for a midweek group hang? Check the cultural calendar for arts activities or see what bands are rolling through town. With your Superconnector powers working overtime you'll probably wind up playing matchmaker for a few of your favorite people. Want to expand your circle? Carpe diem and invite a friend crush to join your entourage for the fun; or include your sister or cousin who's finally grown up enough for the two of you to relate. Did someone you adore recently debut a new project? Signal-boost their efforts and help them create a buzz. You could share a link on social media or hook them up with a business connection. What goes around comes around!
Even in these laid-back positions, Venus and Mars are still the planets of love. Near Wednesday's trine, Cupid could wing in and reveal an attraction from a place that's so obvious you probably overlooked it, like the friend zone! And while it's wise to avoid rushing things, you may see a platonic pal in a totally different light and feel like exploring. No matter where your feet are planted, keep your energetic field open. Kindred spirits and romantic prospects could crop up anywhere, like when you're waiting in line at the taco truck or trying an amazing pair of flatform sandals that you scouted on Instagram. With Mars in your tech sector, dabbling on the dating apps may turn up a lucky swipe. (It only takes one!) If you're already attached, make a point of socializing as a pair early this week. The couple that plays together, slays together!
On Sunday, your money mojo returns as Mercury ends a three-week retrograde and motors ahead in Aries and your second house of income. As those financial floodgates fly open, be more proactive about finding your pot of gold. Are there clients leads to call, or interviews and lunches to get on the books? Make a list so you can dive in first thing Monday morning. Friction with a colleague could clear up and even take a surprising turn for the better as Mercury powers forward through Aries until May 13. If it's time to raise your rates or collect on an IOU, you'll be able to assert yourself and get what you need without alienating anyone in the process.
Later on Sunday, the year's only new moon in Aries will activate your prosperity corner for the second time that day. If you've been pondering a job change or a full-on career shift, this lunar lift sets you on the starting block. Although la luna is in speed-demon Aries, don't rush in without a plan. Be patient with the process—and just get started! It might take until the corresponding full moon on September 24 to hit a major benchmark. But you never do know, Pisces. Put out feelers now, because a new job COULD drop in your lap within days of the new moon. As the saying goes, "luck is where preparation meets opportunity." Have your resume and LinkedIn profile polished and current and be clear about things like salary requirements and benefits packages. Maybe you love your job but are longing to be challenged. Draft your own dream-job description and request a sit-down with management over the next two weeks. Creating abundance is the goal here, but it makes little difference if you burn it as fast as you earn it. Use Sunday to get a better budget in place—one you can actually stick to!