Love or Lust – Mercury Retrograde In Aries & How It Will Affect You
Enjoy this period of peace and quiet while you can because, come March 22, the first Mercury retrograde of 2018 will arrive, bringing with it the usual headaches and chaos.
That retrograde is set to conclude on April 15, but we're in for two more before the year is out, one from July 25 to August 18 and another from November 16 to December 6. This is a normal amount of Mercury retrogrades for a single year, but they all share something very special.
Every time it takes a backspin this year, Mercury (aka the planet of communication) will be moving through a fire sign: first Aries, then Leo, and finally Sagittarius. If you aren't super familiar with this astrological element, brace yourselves, stargazers.
Mercury stationary retrograde on March 22, 2018 at 16°54′ Aries. The chart below shows Mercury conjunct Venus which makes love and relationships major themes of Mercury retrograde 2018. It means you will be thinking more about love and companionships and be wanting to talk more about it. It puts you in touch with what you love about a person but Mercury retrograde March 2018 conjunct Venus makes it harder to actually tell that person how you feel.
This is a good time for making new friends because there should be more social interaction in your daily life. Mercury retrograde usually brings you into contact with old friends so Mercury retrograde March 2018 conjunct Venus increases the chance of meeting ex partners. New friends or lovers may trigger feelings of déjà vu because of your past life memories.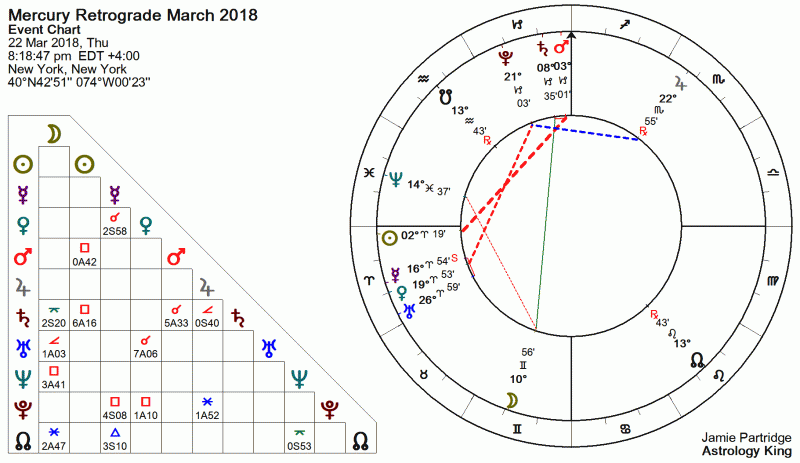 Mercury square Pluto brings deep thinking and intensifies your social interactions. But it also exposes your darkest thoughts and beliefs such as bigotry, nationalism and racism. Avoid extreme ideas and trying to force your opinions on others. There will be more news stories about teasing and bullying at school and on the Internet.
Even if you hold a moderate point of view, there is a risk that you will use extreme or coercive methods to talk someone into something or change their mind. The more extreme your idea, or the more force you use to convince others, the more criticism and conflict you will meet.
Venus square Pluto can have a profound effect on your love life. Love may turn to lust as power and control issues may arise in existing relationships. Simmering tension may come to the surface as some manipulative behavior like jealousy or obsessiveness. At the root of such behaviors would be a deeply buried fear or insecurity about not feeling loved or valued. Of course, it may be you who is subject to such behaviors from a partner.  Threats and ultimatums are possible if either partner feels smothered or controlled.
An unhealthy relationship may breakdown which would be very painful or dramatic. A well based relationship will withstand the intensity of this transit. In this case, there would still be a transformation undertaken within the relationships dynamics.
New love is possible now and it could seem like instant attraction. However, you must also realize that such an infatuation may lead to an abusive or even violent attachment. Old cases of sexual abuse will be exposed and damage the egos and reputations of many men and some women. Mercury retrograde conjunct Venus square Pluto also suggests an increase in the reporting of child sexual abuse especially by school teachers, as well as abusive insestuous relationships.
Mercury Stationary Direct on April 15, 2018 at 04°46′ Aries. The chart below shows only one major Mercury aspect,  Mercury square Saturn. This suggests the intensity of Mercury retrograde March 2018 may leave you in a serious frame of mind. Communicating your plans and ideas will be difficult because of negative thinking and misunderstandings.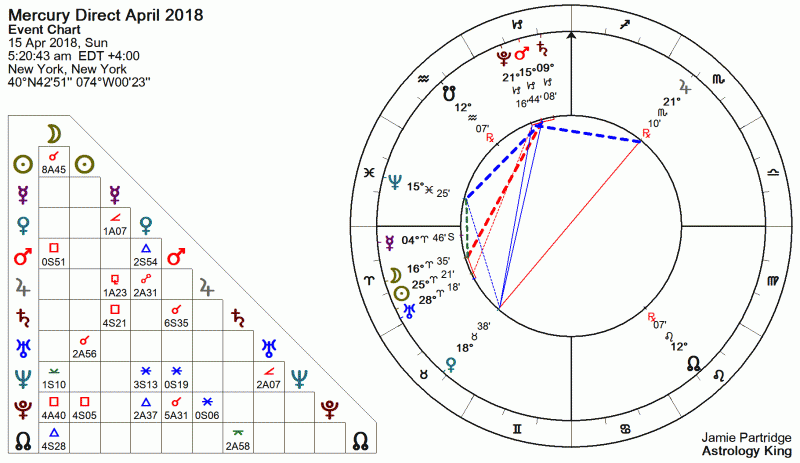 You may have some unanswered questions or serious decisions to make but seek trusted, professional advice if you are involved in contracts, business or legal matters. Do not rely on the words of others, and be careful with your own. There may be some distance or separation in close relationships. This, together with gloomy thoughts, bad news or loneliness, can have a negative effect on your mental well-being.
Mercury leaves the retrograde zone on May 03, 2018 at 16°54′ Aries.
If Mercury retrograde 2018 affects your decan I will discuss it in your monthly horoscope. For more detail on how Mercury retrograde March 2018 aspects your birth chart, see Mercury Transits.